TREATMENT APPROACH
Acceptance and Commitment Therapy (ACT)Acceptance and Commitment Therapy (ACT) is a form of psychotherapy that encourages individuals to accept their thoughts, feelings, and experiences without judgment and to use them as tools to help them to make changes in their lives that are consistent with their values. It is based on the idea that by changing the way we think about our inner experiences, we can reduce emotional distress and increase our sense of well-being.
Body-Mind PsychotherapyBody-mind psychotherapy is an integrative approach to psychological treatment that draws from both psychotherapeutic and somatic/body-based approaches. It emphasizes the interconnection between physical, emotional, cognitive and spiritual aspects of being. This approach seeks to help individuals explore how physical sensations, emotions, thoughts and beliefs influence their behavior and well-being. Through this exploration, individuals can gain insight into how the body and mind interact to create patterns of behavior, and how those patterns can be changed to promote healing and wellness.
DreamworkModern dreamwork asserts that the only person that can make meaning of their dream is the dreamer, which is what separates dreamwork from dream interpretation. In dreamwork, the practitioner is a guide in the exploration of the dream, with the client making meaning of the dream for themselves. The reason the practitioner is only a guide is because thoughts, emotions, as well as meaning of symbols are deeply personal and subjective. Dreams can be used to uncover hidden feelings and beliefs, develop self-awareness, and gain insight into problems and potential solutions. Dreamwork is often paired with other therapeutic modalities.
Eye Movement Desensitization and Reprocessing Therapy (EMDR)Eye Movement Desensitization and Reprocessing (EMDR) is a psychotherapy treatment that was originally designed to alleviate the distress associated with traumatic memories. It uses a structured approach to address the past events that may be causing current distress, and uses bilateral stimulation, such as eye movements, to activate different neural networks in the brain in order to reduce symptoms of trauma. EMDR has been found to be effective for a wide range of mental health issues, including anxiety, depression, and PTSD.
Gestalt TherapyGestalt therapy is an experiential, humanistic approach to psychotherapy that emphasizes personal responsibility, and that focuses on the individual's experience in the present moment. It explores an individual's emotions, behaviors, and thoughts, and how they may be influencing one another. It is rooted in the belief that people are responsible for their own experience, and that they can make conscious choices to improve their lives. The goal of gestalt therapy is to help individuals gain insight into their current experiences and to become aware of how their behaviors and thoughts shape their present reality.
Somatic Intervention
PROUD PARTICIPANT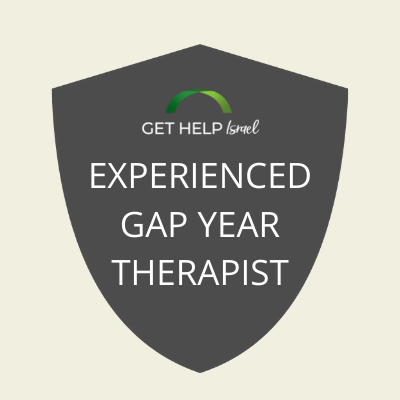 Therapist's Experience with Gap Year Students
Current events and individual life experiences make today's Gap Year student so much more sophisticated than ever. I love working with this age group, helping them navigate their own identities while sorting through whatever they bring to our sessions.