TREATMENT APPROACH
Emotional Freedom TechniqueEmotional Freedom Technique (EFT) is an alternative therapy for emotional and physical distress. It is based on the idea that the cause of all negative emotions is a disruption in the body's energy system. EFT is a form of psychological acupressure, in which a combination of physical tapping and verbal affirmations are used to help the body release the emotional and physical distress.
Eye Movement Desensitization and Reprocessing Therapy (EMDR)Eye Movement Desensitization and Reprocessing (EMDR) is a psychotherapy treatment that was originally designed to alleviate the distress associated with traumatic memories. It uses a structured approach to address the past events that may be causing current distress, and uses bilateral stimulation, such as eye movements, to activate different neural networks in the brain in order to reduce symptoms of trauma. EMDR has been found to be effective for a wide range of mental health issues, including anxiety, depression, and PTSD.
Guided ImageryGuided imagery is a form of visualization used for relaxation and healing. It uses the power of the imagination to create positive changes in a person's thoughts, feelings, and behaviors. It is also used to reduce stress and anxiety, cope with physical and emotional pain, increase motivation, confidence, and self-esteem, and to improve focus and concentration. During a guided imagery session, the practitioner will guide the client through a series of visualizations, using words and descriptions to help them create mental images in their mind. These visualizations can take many forms, such as a comforting place from the past or the client's future goals.
Internal Family Systems (IFS)Internal Family Systems (IFS) is an evidence-based psychotherapy that uses the metaphor of an internal family of parts to help people gain awareness of how different parts of themselves can interact in healthy and unhealthy ways. IFS encourages people to become curious about their different parts, with the goal of helping them gain access to their true Self or core. Through this process, people can learn to recognize and care for the different parts of themselves, as well as develop compassionate understanding for the origins of their parts. A key principle of IFS is that each part within the person has its own positive intention and is trying to protect the person in some way. By understanding the positive intention of each part, the practitioner and client can work together to help the parts feel heard and understood, and to find more adaptive ways of meeting their needs. IFS has been found to be an effective treatment for a variety of mental health issues, including depression, anxiety, trauma, and relationship issues.
Somatic Experiencing (SE)Somatic Experiencing (SE) is a body-oriented approach to the healing of trauma and other physical and psychological stresses. It is based on the idea that the body is a powerful source of healing and that unresolved trauma can be resolved through the process of bringing awareness and attention to the physical sensations of the body. By gradually and gently guiding individuals through the sensations associated with their traumatic experience, SE can help to restore balance and well-being more quickly and effectively than traditional psychotherapy. SE utilizes the body's natural ability to regulate and heal itself and supports individuals in developing more resilience and self-regulation. Somatic Experiencing aims to help people move past the place where they might be "stuck" in processing a traumatic event. SE is often used to treat symptoms of post-traumatic stress disorder (PTSD), anxiety, depression, and other mental health issues.
Trauma-Focused Cognitive Behavioral Therapy (TF-CBT)Trauma-Focused Cognitive Behavioral Therapy (TF-CBT) is an evidence-based practice used to help children, adolescents and their parents who have experienced a single or multiple traumatic events. This type of therapy combines cognitive and behavioral strategies to help people process their traumatic experiences, manage their distress, develop coping skills, and restore their sense of safety and well-being. TF-CBT focuses on education and skill-building, creating an environment of safety and trust, and using therapeutic activities to help people understand their responses and control their symptoms. Children are shown how perceptions may be distorted and are given the tools to redesign those perceptions. TF-CBT is a skills-based model, and it requires the child and parent to practice its components in order to be optimally effective. Parents and children are commonly asked to practice skills at home.
Integral Somatic Psychology, Brainspotting
PROUD PARTICIPANT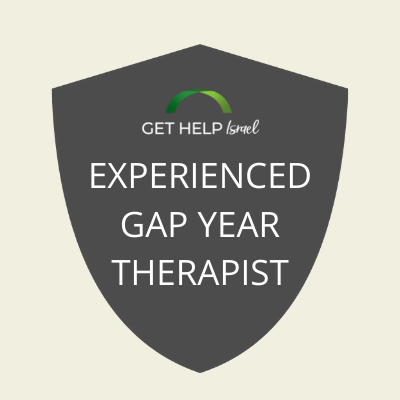 Therapist's Experience with Gap Year Students
I have noticed with gap year students that during this time many begin to develop an awareness of emotional needs and struggles they have had, but never were able to address before. Now is a great and vital time to work on self esteem, anxiety, childhood/social struggles to heal!